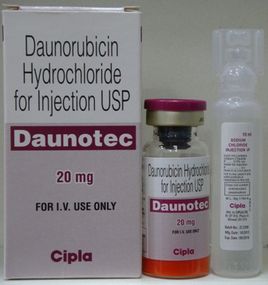 CIPLA LTD.
Daunotec
---
DAUNOTEC Contains Drug / Molecule called "DAUNORUBICIN". Daunotec is an anthracycline, forms a stable complex with DNA and interferes with the nucleic acid synthesis. It also has immunosuppressant and antibacterial effects.
---
Indication
DAUNOTEC is most commonly used to treat specific types of leukaemia (acute myeloid leukemia and acute lymphocytic leukemia)
Note
Precaution
Daunotec is a prescription drug and should be used under proper medical guidance and advice.Contraindicated during pregnancy and lactation
Updated On Oct 19, 2019 by Admin
Strength
20 mg.
Packing
Vial
Storage
Store below 25 °C. Reconstituted solution for injection is stable for 24 hr. at room temperature and 48 hr. under refrigeration (2-8°C) and should be protected from light.
Daunotec also available as
---
Pfizer
---
"Daunoblastina" contains Drug / Molecule called "Daunorubicin". Daunoblastina is an anti-cancer ("antineoplastic" or "cytotoxic") chemotherapy drug. Daunoblastina is an anthracycline, antineoplastic agent used as a standard component of different regimens for the treatment of Leukemia.
"Daunotec" is the generic version of "Daunoblastina" and both contains same drug "Daunorubicin".
---
---
---