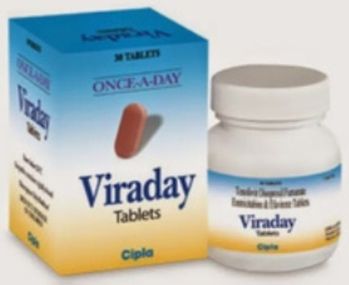 CIPLA LTD. (INDIA)
Viraday
---
"Viraday" contains three active ingredients, the "Antiretrovirals Efavirenz (600mg), Tenofovir Disoproxilfumarate (300mg) and Emtricitabine (200mg)" used to treat HIV infection. It prevent or slow down the ability of HIV to replicate and spread, which keeps the amount virus down to a low level and this results in an increase in CD4 cell numbers, so that the immune system can recover, reducing the risk of disease progression.
---
Indication
Viraday tablets are a fixed dose combination treatment for Human Immunodeficiency Virus (HIV) infection.
Note
Precaution
Severe allergic reactions (rash; hives; itching; difficulty breathing; tightness in the chest; swelling of the mouth, face, lips, throat, or tongue).
Updated On Oct 17, 2019 by Admin
Strength
Efavirenz(600mg), Tenofovirdisoproxilfumarate(300mg), Emtricitabine(200mg).
Packing
1*30 Tablets (Bottle)
Storage
Store at room Temperature (25°C), away from heat, moisture, and light.
---