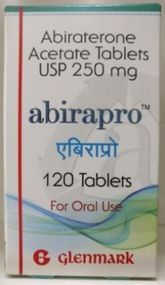 Glenmark Pharmaceuticals Ltd.
Abirapro
---
"Abirapro" contains Drug / Molecule called "Abiraterone Acetate". Abirapro belongs to the general class of drugs known as hormones or hormone antagonists. It works by blocking an enzyme called CYP17. This enzyme normally helps certain cells in the body make male hormones called androgens, such as testosterone. Since prostate cancer usually depends on androgens to help it grow and spread, this helps stop it from growing.
---
Indication
Abirapro is used to treat metastatic castration-resistant prostate cancer.
Note
Precaution
Abirapro is a prescription drug and should be used under proper medical guidance and advice.
Abirapro is not for use in women or children.
Updated On Oct 17, 2019 by Admin
Strength
250 mg Tablets.
Packing
1 X 120 Tablets (Bottle)
Storage
Store at room Temperature (25°C).
---