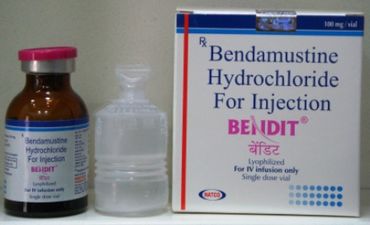 NATCO PHARMA LIMITED (INDIA)
Bendamustine-bendit
---
"Bendamustine" is the Drug / Molecule content in "Bendit". Bendamustine belongs to a class of medication known as alkylating agents. Alkylating agents are most active in the resting phase of the cell-cycle. There are several types of alkylating agents. Bendamustine is a nitrogen mustard derivative and is active against resting as well as dividing cells.
---
Indication
Bendamustine is used to treat Chronic Lymphocytic Leukemia (CLL) that is a type of cancer of the white blood cells. It is also indicated for a type of Non-Hodgkin's Lymphoma.
Note
SIDE EFFECTS :
Low blood counts : white and red blood cells and platelets may temporarily decrease

Increase in bilirubin

levels.

Common side effects include: Infusion reaction (chills, fever, itching, rash), Fever, Nausea, Vomiting, Fatigue, Diarrhea, Rash.
INTERACTIONS :
Tell your doctor about all the medicines you take, including prescription and nonprescription medicines, vitamins and herbal supplements. Especially tell your doctor if you take:
Medications that block the enzyme CYP1A2 such as Zileuton, Amiodarone, Mexiletine, Propafenone, Verapamil, Cimetidine, Famotidine, Birth control pills, Acyclovir, Ticlopidine, Ciprofloxacin and Fluvoxamine.

Medications that increase the activity of the enzyme CYP1A2 such as Montelukast, Phentoin, Omeprazole, Phenobarbital.

Cigarette smoking may decrease the effectiveness of Bendamustine
OVERDOSE :
If this medication is administered by a healthcare provider in a medical setting, it is unlikely that an overdose will occur. However, if an overdose is suspected, seek emergency medical attention.
Precaution
Bendamustine is a prescription drug and should be used under proper medical guidance and advice.
Bendamustine may cause Myelosuppression & lead to some infections.
Bendamustine may lead to renal failure and anaphylactic reaction.
Use in pregnancy should be avoided.
Updated On Oct 17, 2019 by Admin
Strength
100 mg
Packing
Vial
Storage
Store at a temperature not exceeding 30 C. Retain in original package until time of use to protect from light.
---