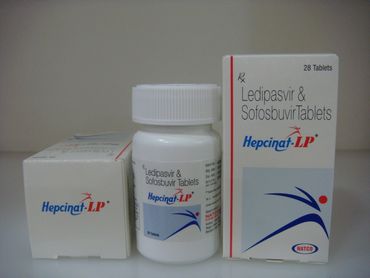 NATCO PHARMA LIMITED (INDIA)
Ledipasvir & sofosbuvir-hepcinat lp
---
"Ledipasvir and Sofosbuvir" is the Drugs / Molecules content in "Hepcinat-LP" which are direct acting antiviral agents against the hepatitis C virus (HCV). Ledipasvir is an inhibitor of the protein, which is required for viral replication. Sofosbuvir is a nucleotide prodrug that undergoes intracellular metabolism to form the pharmacologically active Uridine analog triphosphate which can be incorporated into HCV RNA and acts as a chain terminator.
---
Indication
Ledipasvir & Sofosbuvir is used for the treatment of chronic hepatitis C virus (HCV).
Cure rates are 94% to 99% in people infected with genotype 1 (46% of HCV cases). It has also been evaluated for the treatment of infection with other Hepatitis C genotypes, and has shown promising results in genotypes 3 and 4.
Note
SIDE EFFECT :
Common side effects include muscle pains, headache, nausea, rash, diarrhea, insomnia and cough.

More severe reactions are connected with allergic reactions to the medications and cardiovascular problems.
INTERACTIONS :
Patients are advised to stay away from H2 Receptor Antagonists (H2RA) and Proton Pump Inhibitors (PPI) because they decrease the concentration of Ledipasvir.
Ledipasvir / Sofosbuvir should additionally be avoided when taking Amiodarone or other drugs that lower heart rate; there is a serious risk of the heart slowing or stopping when Ledipasvir / Sofosbuvir is used with such drugs.
OVERDOSE :
Do not use more than prescribed dose.

If you suspect you may have overdosed, call your healthcare provider.

Do not take extra dose to make up for the missed dose.
Precaution
Ledipasvir & Sofosbuvir is a prescription drug and should be used under proper medical guidance and advice.

Do not use Ledipasvir & Sofosbuvir if you are pregnant or breastfeeding or trying to get pregnant.

Ledipasvir & Sofosbuvir is contradicted for use during unprotected sexual intercourse as it may also lead to birth defects.

Ledipasvir & Sofosbuvir is not to be taken within a before and after 4 hour period of taking any Antacids.
Updated On Oct 26, 2019 by Admin
Strength
90 mg Ledipasvir & 400 mg Sofosbuvir
Packing
1 X 28 Tablets (Plastic Container)
Storage
Store at a Temperature not exceeding 30 C
---