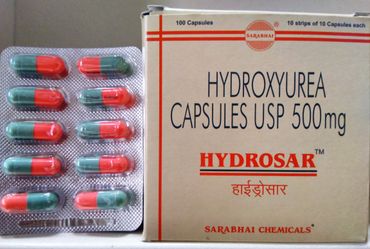 Ambalal Sarabhai Enterprises Ltd. (INDIA)
Hydrosar
---
HYDROSAR contains Drug / Molecule called "HYDROXYUREA". Hydrosar is an anti-cancer ("antineoplastic" or "cytotoxic") chemotherapy drug. Hydrosar is classified as an "antimetabolite."
---
Indication
Hydrosar is used for the treatment of Refractory ovarian cancer, Polycythemia vera, Hypereosinophilic Syndrome. It is also used to reduce the rate of painful attacks in sickle-cell disease and has antiretroviral properties in diseases such as AIDS.
Note
Precaution
Hydrosar is prescription drug and should be used under proper medical guidance and advice.
Contraindicated in pregnancy.
Updated On Oct 19, 2019 by Admin
Strength
500 mg
Packing
1*10 Capsules (Strip)
Storage
Store at room Temperature (25°C).
---