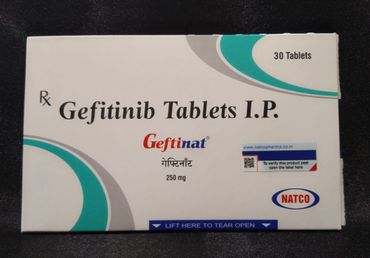 NATCO PHARMA LIMITED (INDIA)
Gefitinib-geftinat
---
"Gefitinib" is the Drug / Molecule content in "Geftinat". Gefitinib is an anilinoquinazoline. It attaches to epidermal growth factor receptors (EGFRs), thereby blocking the attachment of EGF and the activation of tyrosine kinase. It targets the mutant protein in the cancerous cells and destroys them.
---
Indication
Gefitinib is used for the treatment of Non-Small Cell Lung Cancer.
Note
SCHEDULE H PRESCRIPTION DRUG - CAUTION
To be supplied on the prescription of a Cancer Specialist / Institution / Hospital only.
Precaution
Geftinat is a prescription drug and should be used under proper medical guidance and advice.
Contraindicated in pregnancy and lactation.
Updated On Oct 15, 2019 by Admin
Strength
250 mg Tablets
Packing
1 x 30 Tablets (Strip)
Storage
Store in a cool, dry place, protected from sunlight and moisture.
---