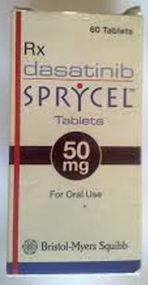 Bristol-Myers Squibb
Dasatinib-sprycel
---
"Dasatinib" is the Drug / Molecules content in "Sprycel". It belongs to a class of medications protein tyrosine kinase inhibitor (TKI). Dasatinib blocks and interferes with how cells make a number of protein kinases and is called a multi kinase inhibitor. It will works by blocking the signals to grow.
---
Indication
Sprycel is used for the treatment of chronic myeloid leukemia (CML) and acute lymphoblastic leukemia.
Note
Precaution
Sprycel is a prescription drug and should be used under proper medical guidance and advice.
Neutropenia and myelosuppression were common toxic effects.
Updated On Oct 25, 2019 by Admin
Strength
20mg, 50mg, 70mg, 100 mg
Packing
1 X 60 Tablets (Bottle)
Storage
Store at a room Temperature not exceeding 30 C
---