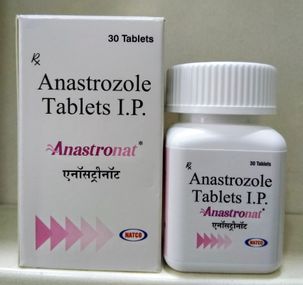 NATCO PHARMA LIMITED (INDIA)
Anastronat
---
"Anastronat" contains same Drug / Molecule called "Anastrozole".It belongs to a class of medications called Nonsteroidal aromatase inhibitors. Anastrozole binds reversibly to the aromatase enzyme through competitive inhibition, inhibits the conversion of androgensto estrogens in peripheral tissues . It lowers estrogen levels in postmenopausal women, which may slow the growth of certain types of breast tumors that need estrogen to grow in the body.
---
Indication
Anastronat is used for treating (treatment following surgery with or without radiation) breast cancer in postmenopausal women. It is effective in the off-label reduction of estrogens in men thus, minimizing the chances of benign prostatic hyperplasia, gynecomastia and hypogonadism in them
Note
Precaution
Anastronat is a prescription drug and should be used under proper medical guidance and advice.
Anastrozole may not work as well if you take it together with an estrogen medication (such as hormone replacement therapy, estrogen creams, or birth control pills, injections, implants, skin patches, and vaginal rings).
Anastrozole

may increase your risk of a stroke or blood clot.

Anastrozole

can also decrease bone mineral density, which may increase your risk of developing osteoporosis.
Updated On Oct 17, 2019 by Admin
Strength
1 mg
Packing
1X10 Tablets (Strips)
Storage
Store at roomtemperature (25 °C).
---