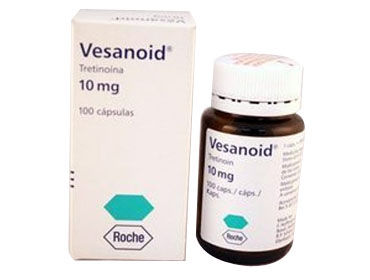 Roche
Vesanoid
---
Vesanoid contains the Drug / Molecule "Tretinoin". It belongs to a class of medications called anti-cancer retinoids.Tretinoin is one of a group of drugs called retinoids that are similar to vitamin A. Retinoids control normal cell growth, cell differentiation (the normal process of making cells different from each other), and cell death. Tretinoin is a cancer medication that interferes with the growth of cancer cells and slows their growth and spread in the body
---
Indication
Vesanoid has used for the treatment of acute promyelocytic leukemia (a type of blood cancer).
Note
Precaution
Vesanoid is a prescription drug and should be used under proper medical guidance and advice. .
Updated On Oct 22, 2019 by Admin
Strength
10 mg
Packing
1*100 Capsules (Bottle)
Storage
Store at a temperature not exceeding 30 C.
---