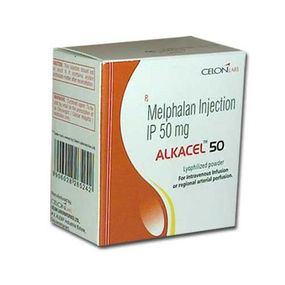 Celon Laboratories Pvt.Ltd
Alkacel
---
"Alkacel" contains the Drug / Molecule "Melphalan". Alkacel Injection works by stopping or slowing the growth of cancer cells in the body.
---
Indication
Alkacel Injection is used for the treatment, control, prevention, & improvement of Blood cancer, Ovarian cancer, Breast cancer, Soft tissue cancer, Skin cancer.
Note
Precaution
Alkacel is a prescription drug and should be used under proper medical guidance and advice.
Before using Alkacel Injection, inform your doctor about your current list of medications, over the counter products (e.g. vitamins, herbal supplements, etc.), allergies, pre-existing diseases, and current health conditions (e.g. pregnancy, upcoming surgery, etc.).
Updated On Oct 18, 2019 by Admin
Strength
50 mg (Injection), 02 mg (Tablets), 05 mg (Tablets)
Packing
Vial, 1 X 25 Tablets (Bottle)
Storage
Store at room Temperature away from heat and direct light
---