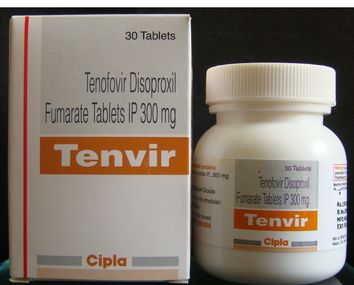 CIPLA LTD. (INDIA)
Tenofovir-tenvir
---
"Tenofovir Disoproxil" is the Drug / Molecule content in "Tenvir.
Tenofovir belongs to a class of antiviral medications called reverse transcriptase inhibitors by competing with the natural substrate, deoxyadenosine 5'-triphosphate, and by DNA chain termination.
---
Indication
Tenofovir is used in combination with other antiviral medications in patients with acquired immunodeficiency syndrome (AIDS). Tenofovir is also used for the treatment of chronic hepatitis B infection. It is a nucleotide reverse transcriptase inhibitor and works by decreasing the ability of the viruses to replicate.
Note
SIDE EFFECTS :
Common side effects include nausea, rash, diarrhea, headache, pain, depression, and weakness.

Severe side effects include high blood lactate

and an enlarged liver

.

Long term use of Tenofovir disoproxil is associated with nephrotoxicity

and bone loss.
INTERACTIONS :
Tenofovir interacts with Didnosine

and HIV-1 protease inhibitors. Tenofovir increases Didanosine concentrations and can result in adverse effects such as pancreatitis

and neuropathy.

Tenofovir also interacts with HIV-1 protease inhibitors such as Atazanavir

, by decreasing Atazanavir concentrations while increasing Tenofovir concentrations.
OVERDOSE :
Do not use more than prescribed dose.

If you suspect you may have overdosed, call your healthcare provider.

Do not take extra dose to make up for the missed dose.
Precaution
Tenofovir is a prescription drug and should be used under proper medical guidance and advice.
Caution to be taken if patient suffering from renal impairment, hepatomegaly or at other liver disease.
Updated On Oct 31, 2019 by Admin
Strength
300 mg
Packing
1 X 30 Tablets (Plastic Container)
Storage
Store at room temperature between 15°C and 30°C.
---