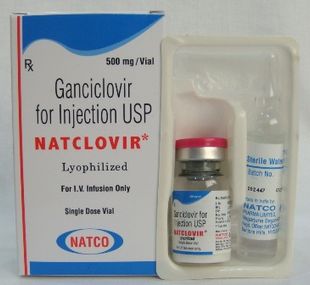 NATCO PHARMA LIMITED (INDIA)
Ganciclovir-natclovir
---
"Ganciclovir" is the Drug / Molecule content in "Natclovir". Natclovir is an antiviral drug.It is a guanine derivative. It competitively inhibits the binding of deoxyguanosine triphosphate to DNA polymerase, thus inhibiting viral DNA synthesis.
---
Indication
Natclovir is used for infections caused by cytomegalovirus. Natclovir is used for the treatment of acute CMV colitis in HIV / AIDS and CMV pneumonitis in immunosuppressed patients.
Note
Precaution
Natclovir is a prescription drug and should be used under proper medical guidance and advice.
Caution should be exercised in patients with history of congenital CMV disease, blood cell or platelet problems, history of bone marrow depression, kidney, heart, or liver disease.
Contraindicated in pregnancy and lactation.
Updated On Oct 25, 2019 by Admin
Strength
250 mg & 500 mg
Packing
1 X 10 Capsules - Strip (250 mg) Vial (500 mg)
Storage
Store in a cool place, protect from light.
---