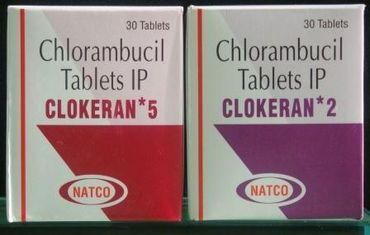 NATCO PHARMA LIMITED (INDIA)
Chlorambucil-clokeran
---
"Chlorambucil" is the Drug / Molecules content in "Clokeran". Clokeran is a bifunctional alkylating agent which interferes with cancer cells and slows their growth and spread in the body.
---
Indication
Chlorambucil is used to treat several types of cancer, including Hodgkin's disease and certain types of leukemia or lymphoma.
Note
Precaution
Clokeran is a prescription drug and should be used under proper medical guidance and advice.
Clokeran may affect fertility (in both males and females).
Contraindicated in pregnancy.
Updated On Oct 24, 2019 by Admin
Strength
2 mg & 5 mg
Packing
1 X 30 Tablets (Bottle)
Storage
Store between Tempreture 2°C to 5°C
---