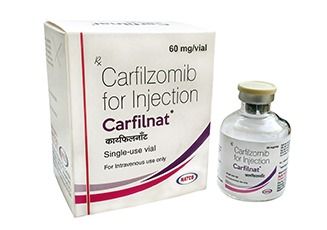 NATCO PHARMA LIMITED (INDIA)
Carfilzomib-carfilnat
---
"Carfilzomib" is the Drug / Molecule content in "Carfilnat". It is an anti-cancer drug acting as a selective proteasome inhibitor.
---
Indication
Carfilnat is indicated for the treatment of patients with multiple myeloma who have received at least two prior therapies including bortezomib and an immunomodulatory agent and have demonstrated disease progression on or within 60 days of completion of the last therapy.
Note
Precaution
Carfilzomib is a prescription drug and should be used under proper medical guidance and advice.

Advise women on therapy during pregnancy or become pregnant during treatment of potential hazard to fetus.

Monitor platelet counts; interrupt or reduce dosing as clinically indicated if thrombocytopenia occurs.

Advise males of reproductive potential to avoid fathering a child while on therapy.
Updated On Oct 17, 2019 by Admin
Strength
60 mg
Packing
Vial
Storage
Store between 2°C to 8°C.
---