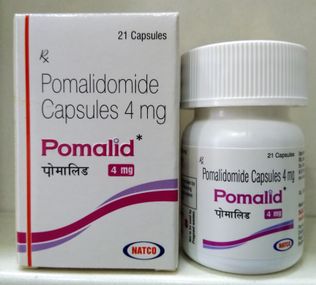 NATCO PHARMA LIMITED (INDIA)
Pomalidomide-pomalid
---
"Pomalidomide" is the Drug / Molecule content in "Pomalid". Pomalidomide promotes immune responses to help slow tumor growth. Pomalidomide is anti-angiogenic and also acts as an immunomodulator. Pomalidomide is a Thalidomide analogue.
---
Indication
Pomalidomide is used to treat Multiple Myeloma (cancer resulting from a progressive blood disease). Pomalidomide is usually given after at least two other medications have been tried without success.
Note
SCHEDULE H PRESCRIPTION DRUG – CAUTION
To be sold by retail on the prescription of an "Oncologist only".
SIDE EFFECT :
Dizziness

, confusion, tiredness,

weakness

,

constipation

,

diarrhea

, backbone pain,

muscle pain

/

cramps

,

nausea

,

vomiting

, and loss of appetite may occur.
Pomalidomide decreases bone marrow function, an effect that may lead to a low number of

blood cells

such as red cells, white cells, and platelets.

Cardiac disorders : Myocardial infarction, Atrial fibrillation, Angina pectoris, Cardiac failure congestive.

These are all the possible side effects of Pomalidomide. Tell your healthcare pr

ovider about any side effect that bothers you or that does not go away.
INTERACTIONS :
Co-administration of Fluvoxamine in the presence of Ketoconazole to 12 healthy male subjects increased exposure to Pomalidomide by 146% compared to Pomalidomide admistrered alone.

Dexamethasone : Co-administration of multiple doses of 4 mg Pomalidomide with 20 mg to 40 mg dexamethasone to patients with multiple myeloma had no effect on the pharmacokinetics of Pomalidomide compared with Pomalidomide administered alone.

Cigarette smoking may reduce Pomalidomide exposure due to CYP1A2 induction. Patients should be advised that smoking may reduce the efficacy to Pomalidomide.

Do not start, stop, or change the dosage of any medicines without your doctor's approval.
OVERDOSE :
No specific information is available on the treatment of overdose with Pomalidomide, and it is unknown whether Pomalidomide or its metabolites are dialyzable. In the event of overdose, supportive care should be advised by physician.
Precaution
Pomalidomide is a prescription drug and should be used under proper medical guidance and advice.

Never use Pomalidomide in pregnancy. Even one dose of Pomalidomide can cause severe, life-threatening birth defects or death of a baby if the mother or the father is taking this medicine at the time of conception or during pregnancy.
Updated On Oct 17, 2019 by Admin
Strength
01 mg, 02 mg & 04 mg
Packing
1 X 21 Capsules (Plastic Container)
Storage
Store below 25 C
---