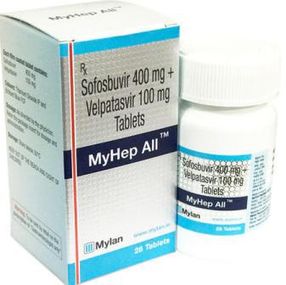 Mylan
Myhep all
---
"MYHEP ALL" contains Drug / Molecule called "Velpatasvir & Sofosbuvir". MYHEP ALL has high overall cure rates of 99% for GT2 patients† and 95% for GT3 patients‡. Velpanat was also found to be highly effective in patients with GT1, GT4, GT5 and GT6, with overall cure rates ranging from 97–100%.
---
Indication
MYHEP ALL is helpful for treatment of all Hepatitis C adults that are suffering from genotype 1-6 chronic hepatitis C virus.
Note
Precaution
Myhep All is a prescription drug and should be used under proper medical guidance and advice.
Caution should be exercised in patients with history of stomach problem, liver, kidney, or heart disease during pregnancy and breastfeeding.
Updated On Oct 17, 2019 by Admin
Strength
100 mg Velpatasvir / 400 mg Sofosbuvir
Packing
1*28 Tablets (Bottle)
Storage
Store at room temperature (25 C).
---