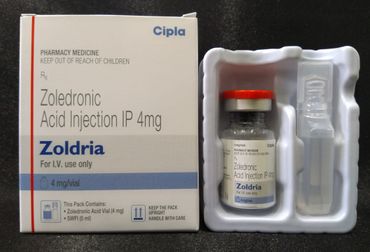 CIPLA LTD.
Zoldria
---
Zoldria contains Drug / Molecule called "Zoledronic Acid". It belongs to bisphosphonates class of medication. It decreases the bone breakdown as well as increases the density or thickness of the bone. It lowers the risk of fractures and other bone problems Moreover, it helps in reducing the amount of calcium, which is released into the blood from bones and helps in lowering down the level of blood calcium in an efficient manner.
---
Indication
Zoldria is used to treat osteoporosis in women and men. Zoldria is also used to treat Paget's disease of bone. Zoldria may be used to treat bone disease in patients who have cancer.
Note
Precaution
Zoldria is a prescription drug and should be used under proper medical guidance and advice.
Updated On Oct 22, 2019 by Admin
Strength
4 mg
Packing
Vial
Storage
Store at room temperature (25°C).
---