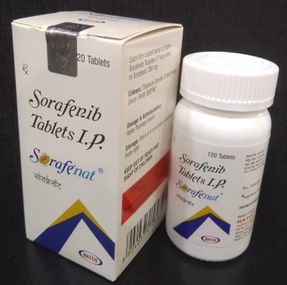 NATCO PHARMA LIMITED (INDIA)
Sorafenib-sorafenat
---
"Sorafenib" is the Drug / Molecule content in "Sorafenat". Sorafenib is a small molecular inhibitor of several tyrosine protein kinases. Sorafenib treatment induces catabolic mechanism that involve cell degradation; which may suppress tumor growth.
---
Indication
Sorafenib is used for the treatment of Primary Kidney Cancer (Advanced Renal Cell Carcinoma) and Advanced Primary Liver Cancer.
DOSAGE AND ADMINISTRATION:
Recommended daily dose is 400 mg (2 X 200 mg tablets) taken twice daily without food (at least 1 hour before or 2 hours after a meal).
SCHEDULE H PRESCRIPTION DRUG – CAUTION
To be sold by retail on the prescription of an Oncologist only.
Note
SIDE EFFECT :
Most commonly occurring Cardiac Ischemia, infarction, Hemorrhage, Hypertension, Hand-Foot skin reaction and rash, Gastrointestinal perforation, Wound healing complications.
INTERACTIONS :
Interaction with Docetaxel & Doxorubicin : Sorafenib can cause increase in plasma concentration of Docetaxel & Doxorubicin
OVERDOSE :
There is no specific treatment for Sorafenib overdose. In cases of suspected overdose Sorafenib should be withheld and supportive care instituted.
Precaution
Sorafenib is a prescription drug and should be used under proper medical guidance and advice.

Caution has to be taken in case of kidney / liver problems, pregnancy and lactation.
Updated On Oct 15, 2019 by Admin
Strength
200 mg
Packing
1 X 120 Tablets (Plastic Container)
Storage
Store in a cool place, protected from light.
---