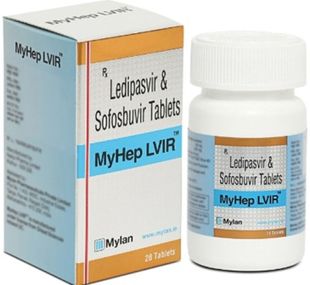 Mylan
Myhep lvir
---
MYHEP LVIR is a fixed-dose combination of "Ledipasvir and Sofosbuvir" which are direct acting antiviral agents against the hepatitis C virus (HCV). Ledipasvir is an inhibitor of the protein, which is required for viral replication. Sofosbuvir is a nucleotide prodrug that undergoes intracellular metabolism to form the pharmacologically active uridineanalog triphosphate which can be incorporated into HCV RNA and acts as a chain terminator.
---
Indication
MYHEP LVIR is used for the treatment of chronic hepatitis C virus (HCV).
Note
Precaution
MYHEP LVIR is a prescription drug and should be used under proper medical guidance and advice.
MYHEP LVIR is contradicted for use when taken with other medications to treat Tuberculosis, Seizures, HIV, Cancer, Cholesterol, Heart ailments and other anti-viral medications.
Updated On Oct 17, 2019 by Admin
Strength
90 mg Ledipasvir / 400 mg Sofosbuvir
Packing
1*28 Tablets (Bottle)
Storage
Store at a Temperature not exceeding 30 C
---