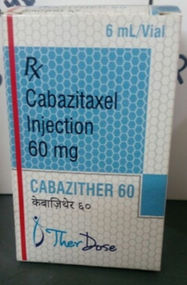 THERDOSE PHARMA PRIVATE LIMITED (INDIA)
Cabazither
---
CABAZITHER contains the Drug / Molecule "CABAZITAXEL". Cabazitaxel is a microtubule inhibitor.it binds to tubulin and promotesits assembly into microtubules while simultaneously inhibiting disassembly.This leads to the stabilization of microtubules,which result in the inhibition of mitotic and interphase cellular functions.
---
Indication
Cabazither is a microtubule inhibitor indicated in combination with prednisone for the treatment of patients with hormone-refractory metastatic prostate cancer previously treated with a docetaxelcontaining treatment regimen.
Note
Precaution
Cabazither is a prescription drug and should be used under proper medical guidance and advice.

Avoid drinking grape fruit juice or eating grapefruit.
Updated On Oct 18, 2019 by Admin
Strength
60 mg
Packing
Vial
Storage
Store at room temperature (25 C).
---