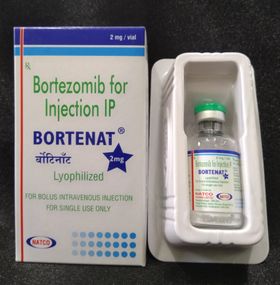 NATCO PHARMA LIMITED (INDIA)
Bortezomib-bortenat
---
"Bortezomib" is the Drug / Molecule content in "Bortenat". Bortezomib is a reversible inhibitor of the chymotrypsin-like activity of proteasome. It prevents targeted proteolysis that affects multiple signaling cascades responsible for normal homeostatic functions within the cell, leading to cell death.
---
Indication
Bortenat is used for the treatment of Multiple Myeloma. Also used for Mantle Cell Lymphoma
Note
Precaution
Bortenat is a prescription drug and should be used under proper medical guidance and advice.
Contraindicated in in patients with hypersensitivity to Bortezomib, boron or mannitol.
Updated On Oct 15, 2019 by Admin
Strength
2 mg & 3.5 mg
Packing
Vial
Storage
Store below 25°C, excursions permitted upto 30°C and protect from light and moisture
---