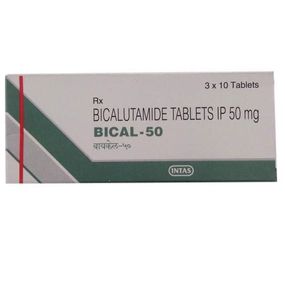 Intas Pharmaceuticals Ltd (INDIA)
Bical
---
"Bical" contains the Drug / Molecule "Bicalutamide". It is an anti-androgen. This medication works by blocking the action of male hormones (androgens) in the prostate, slowing growth of the tumors. It acts as an anti-androgen by binding and preventing activation of androgen receptor (AR) and subsequent upregulation of androgen responsive genes by androgenic hormones.In addition, bicalutamide accelerates the degradation of the androgen receptor.
---
Indication
Bical is used to treat prostate cancer that has spread to other areas of the body.
Note
Precaution
Bical should never be taken by a woman or a child.

Bical is prescription drug and should be used under proper medical guidance and advice.
Updated On Oct 18, 2019 by Admin
Strength
50 mg
Packing
1 X 10 Tablets (Strip)
Storage
Store at room Temperature (25°C)
---