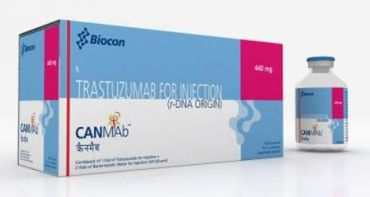 Biocon limited
Canmab
---
CANMAB contains same Drug / Molecule called "TRASTUZUMAB ". It is a monoclonal antibody that interferes with the HER2/neu receptor. It works by targeting certain tumour cells and stopping them from growing and reproducing.These antibodies interferes with the HER2/neu receptor protein that are embedded in the cell membrane and communicate molecular signals from outside the cell (molecules called EGFs) to inside the cell, and turn genes on and off.
---
Indication
CANMAB is used for the treatment of Metastatic Breast Cancer
Note
nN
Precaution
CANMAB is a prescription drug and should be used under proper medical guidance and advice.
Updated On Oct 18, 2019 by Admin
Strength
150 mg & 440 mg
Packing
Vial
Storage
Cold storage 2 - 8 C.
---