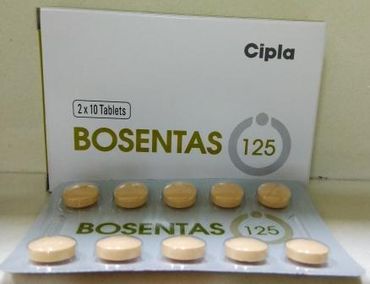 CIPLA LTD.
Bosentas
---
"Bosentas" contains Drug / Molecule called "Bosentan". Bosentas is a dual endothelin receptor antagonist important in the treatment of pulmonary artery hypertension (PAH) by blocking the action of endothelin molecules that would otherwise promote narrowing of the blood vessels and lead to high blood pressure.
---
Indication
Bosentas is used to treat high blood pressure in the lungs. Used in the treatment of pulmonary arterial hypertension (PAH), to improve exercise ability and to decrease the rate of clinical worsening (in patients with WHO Class III or IV symptoms.)
Note
Precaution
Bosentas is a prescription drug and should be used under proper medical guidance and advice.
Bosentas may cause liver damage.
Bosentas may harm the fetus. If you are sexually active and able to become pregnant, you should not begin taking bosentan until a pregnancy test has shown that you are not pregnant.
Updated On Oct 18, 2019 by Admin
Strength
125 mg
Packing
1 X 10 Tablets (Strips)
Storage
Store at Room Temperature (25°C)
---