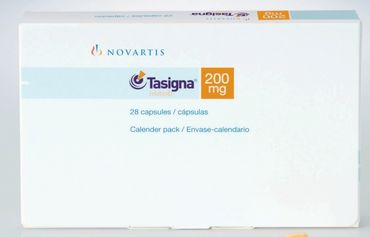 NOVARTIS
Nilotinib-tasigna
---
"Nilotinib" is the Drug / Molecule content in "Tasigna". Tasugna belongs to a class of medications called tyrosine kinase inhibitor. Tyrosine kinases are proteins that act as chemical messengers and stops cancer cells to grow.
---
Indication
Tasigna is used for the treatment of blood cancer called Philadelphia chromosome positive chronic myeloid leukemia (CML).
Note
Precaution
Tasigna is a prescription drug and should be used under proper medical guidance and advice. Recommended for old patients.
Contraindications include,

hypokalaemia

,

hypomagnesaemia

, pr

egnancy, planned pregnancy, lactation and galactose/lactose intolerance.
Updated On Nov 02, 2019 by Admin
Strength
150 mg, 200 mg
Packing
1 x 14 Capsules
Storage
Store at a room Temperature not exceeding 30 C
---