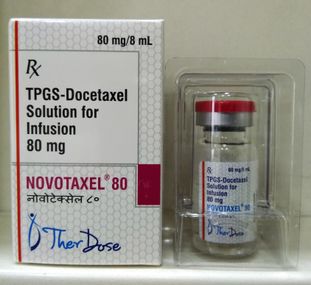 THERDOSE PHARMA PRIVATE LIMITED (INDIA)
Novotaxel
---
"Novotaxel" contains Drug / Molecule called "Docetaxel". Novotaxel is an antineoplastic agent that acts by disrupting the micro tubular network in cells that is essential for mitotic and interphase cellular functions. It interferes with microtubules, which are part of the internal structure.
---
Indication
Novotaxel is used for treatment of locally advanced or metastatic breast cancer, head and neck cancer, gastric cancer, hormone-refractory prostate cancer and non-smallcell lung cancer. Novotaxel can be used as a single agent or in combination with other chemotherapeutic drugs as indicated depending on specific cancer type and stage.
Note
Precaution
Novotaxel is a prescription drug and should be used under proper medical guidance and advice.

Severe hypersensitivity reactions, neutropenia, liver impairment might be observed.

Contraindicated in pregnancy and lactation.
Updated On Nov 02, 2019 by Admin
Strength
20 mg, 80 mg, 120 mg
Packing
Vial
Storage
Store between 20°C and 25°C (Excursions permitted between 15°C and 30°C.) Retain in the original package to protect from light.
---